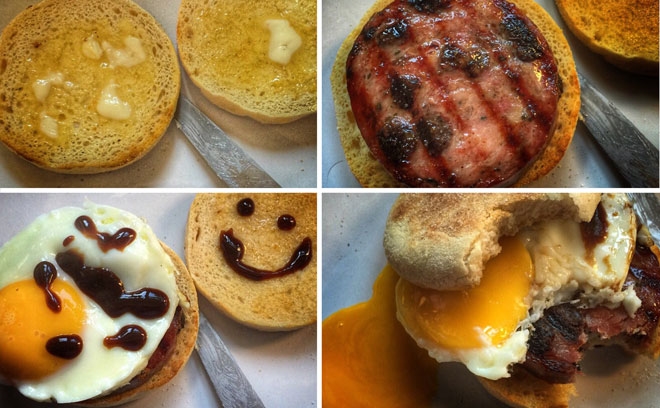 Full English Fast!
16 August 2018
Recipe from Fruit Pig
Preparation time: 5 minutes
Cooking time: 8-10 minutes
Serves: 1-20 !
Ingredients
1-2 fresh toasted and buttered muffins per person.
1 slice of grilled Fruit Pig brunch slice per muffin.
Eggs for frying, one per muffin.
Extra bacon if you wish to create a muffin stack, our collar bacon is an ideal shape and size for this.
Extra black pudding slices if you wish to create a muffin stack.
Add haggis slices and/or white pudding....this may be getting silly but you catch our drift.
A pile of sauces...and kitchen roll for drips!
Method
Want to feed a full English to a bunch of friends after the night before? Want to keep it simple? Want it to look great too? Our Brunch Slice is the answer. Each large slice is made up of our lovely sausage meat, chopped smoked bacon and chunks of our amazing black pudding.

Put your brunch slices in a lightly oiled shallow tray and place in a pre-heated oven (180 degrees C) for four minutes. If cooking extra bacon, black pudding, haggis and white pudding for stacking, add these at the same time in the same tray or extra trays if more space needed. Don't forget that the lower trays in the oven will cook slower even with fan assisted. Slice open your muffins and start toasting, get you egg pan heating and start those fried eggs if you're having to cook loads. After 4 minutes-ish, turn the oven items for a further 4 minutes. Butter those toasted muffins. When the oven tray items are done, start stacking and serving. Very few cooking items and everything can come together in minutes.