Fruit Pig Brunch Slice combines classic sausage, chopped cold smoked bacon and chunks of our gluten free black pudding; simple but genius! We make our Brunch Slice in a wider than our usual casings, so it's the perfect size for your breakfast butty. It's a bit like lorne...but better!
Try the delicious brunch slice with a full fry-up or just toast a muffin, fry an egg and boom! Instant full English.
To cook: Slice off 15mm (half inch in old money!), remove outer skin, grill or fry both sides to 'crozzle' making sure the inside is piping hot.
Allergens: Nil





A "hearty" beakfast!
Couldn't resist, had my Valentine Breakfast in January. Fabulous. Say it with heart-shaped black pud.
Black Pud lover





Amazing... amazing.... amazing
Nothing compares to this..thank god for Fruit Pig...the king of black pudding...will be back for more and we're spreading the word!
The Bennetts





From a Lancashire Lad
I grew up in Lancashire in the 1950s and 60s and one of my early memories is of Oldham's Tommyfield Market, a genuine old fashioned outdoor market. There were several stalls that sold black pudding and it was a common sight to see people eating it as they walked around the market. It had an almost creamy texture and was not over seasoned. Today's black puddings, even the so called 'Award Winning' ones, are a pale shadow of that, I suspect because of food safety laws that mean most black pudding is produced from blood powder that comes from so many sources that nobody can attest to its provenance. The Fruit Pig Fresh Blood Black Pudding is, without doubt, the best I have ever tasted by a country mile. It has that creamy texture I remember along with a taste that just bursts with flavour without having any one key ingredient dominating. If you love good food you really must try this black pudding: you will not regret it, I promise.
I Walker





Brunch (Morning lunch Dinner supper)
This was excellent flavoured, lovely texture and enjoyment to eat!
Eddie





Superb Brunch Slice
Just tried the Fruit Pig Co. Brunch Slice for the first time - I think it is simply a wonderful thing, fabulous meaty flavours, with a good texture. Ideal for a breakfast or in deed a brunch-time feast. If you haven't tried it - do so, you will not be disappointed. Absolutely fantastic! F. Fox
Frederick Fox





Not just for brunch!
Ohmydays this is good. Why has no-one done this before? And, even if they had, I doubt it would be a good as this. It was a ten from everyone around our table.
Jo
Please leave a review!
Please fill in all fields
Thank you
Gluten free sausage (79%) - minced pork (72.5%), water, gluten-free rice flour, salt, spices.
Gluten free black pudding (10.5%) - fresh pigs' blood (30%), pork fat (26%), certified gluten free oats (26%), fresh onions, water, salt (contains E535anti-caking agent), spices.
Dry-cured bacon (10.5%) - skinned pork belly (96%) salt, sugar, E250 Sodium Nitrite.
Nutrition
Typical values per 100g serving:
Energy - 730kJ, 175kcal
Fat - 11g
of which saturates - 3.9g
Cabohydrate - 6.2g
of which sugars - 1.3g
Protein - 13.0g
Salt - 1.7g
Allergens: Nil
Allergens: Nil
As in the label, 14 days in the fridge or 4 months wrapped in the freezer.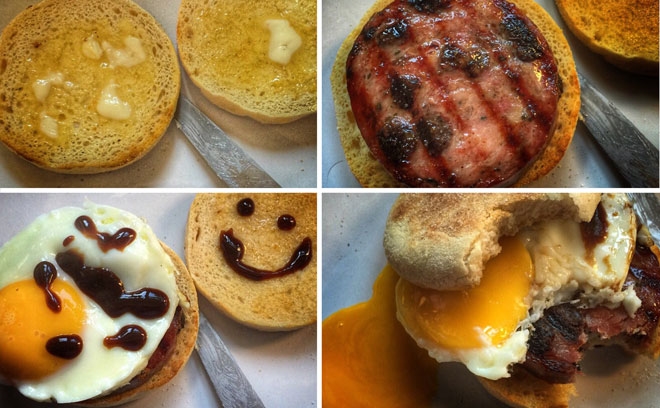 Full English Fast!
View recipe
Courier Delivery
We deliver UK-wide using APC Overnight. Our standard delivery is next-day 0800-1200. Our stated pricing is for mainland deliveries and Southern Scotland only. Deliveries to outer islands and remote areas in Scotland costs between £20 - £25; the delivery charge and delivery timescale will be highlighted to you before you commit to purchase.
Tracking notifications will be sent to your email address and mobile number (if supplied during ordering). Do check your spam filter if nothing arrives in your 'inbox'.
We are a small company and strive to give all of our customers the very best bespoke service. On occasion, we can have limited stock and can't guarantee to fulfill orders placed at short notice (but it's always worth calling to check).
Generally, Thursday to Saturday delivery charges are as follows:

Orders up to £19.99 are £9.99
Orders £20.00-£69.99 are £5
Orders over £70 free
Payment
Please pay by MasterCard, Visa, Solo, American Express and your PayPal account. We also accept BACS payments. No cheques please.
Our Commitment
Our couriers endeavour to get your parcel to you on time. However, occasionally unforeseen circumstances mean that this is not possible. Should your parcel not arrive within this timescale, do track your parcel through APC's website. If there are any issues please let us know immediately. If for any reason our products do not reach you in an acceptable condition, please notify us immediately so that we can sort it.
We do not store credit card details nor do we share customer details with any third party.
For further information, please call us on 01945 439455 or send an email
Fruit Pig Company Limited: 6 Anglia Way, Wisbech, Cambridgeshire PE13 2TY. What3Words: nuzzling.caps.taps
Company Registration: 07220239
VAT No: 987 5380 60
SALSA approved and EORI registered