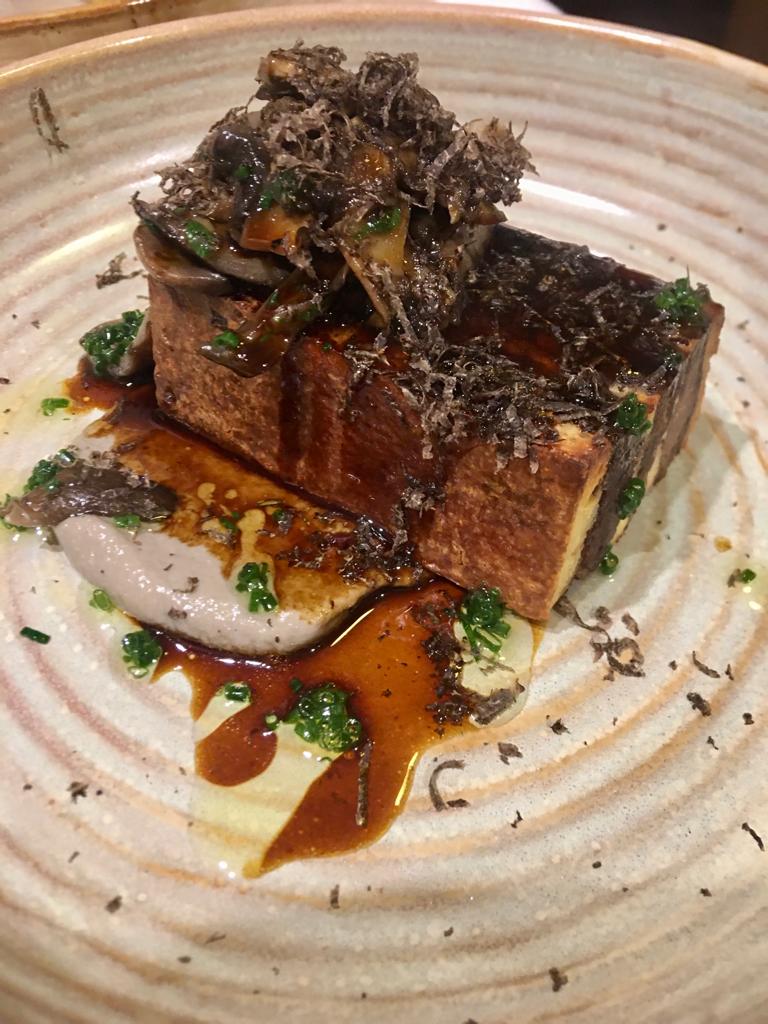 Haggis and Confit Lamb Bread Pudding
05 February 2020
Haggis and Confit Lamb Bread Pudding
Preperation time: Times various, just start the day before.
Cooking time: Times various, just start the day before.
Serves: 14-16!
Ingredients
1 kg Fruit Pig Haggis
1 x small lamb shoulder bone-in
2 x oaves of shop bought brioche
6 x medium eggs
400ml double cream
4 x large shallots
2 x cloves of garlic
300ml quality red wine jus

For Lamb Marinade:

2 x Star Anise
1 x Cinammon Stick
6 x Cloves
6 x Juniper Berries
200g x Sea Salt
2 x Cloves of Garlic
4 good sprigs of rosemary
4 good sprigs of thyme
Method
Mix lamb marinate ingredients together and blend in a grinder.
Slash lamb shoulder with a sharp knife and rub marinade well in.
Plate lamb and fridge for 6 hours to allow marinade to penetrate.
After, wash lamb shoulder under running water and pat dry.
Pre-heat oven to 100-120 degrees C.
Covered in foil, slow roast for around 8 hours; lamb will flake away from the bone.
Wrap the haggis in foil and place in a tray with 3 cm boiling water. Cook in the oven at 150 degrees C for 1 hour.
Flake the lamb from the bones and break into small shreds.
Remove the haggis from its casing and mix with the lamb and set aside.
Finley chop the shallots and garlic and soften in a little oil, then add the red wine jus and bring to the boil.
Mix lamb and Haggis with the jus and combine well.

Method for Building the Bread Pudding.
Remove all of the crusts from the brioche loaf and slice length ways into slices 1/2 cm thick.
Line an oven proof dish with parchment paper ensuring you have a second dish the same size that fits inside the first.
Place a layer of brioche on the base ensuring that the slices slightly over lap each other.
Press down the brioche well and ensure there are no gaps.
Spread a thin layer of the lamb and haggis mix so it totally covers the brioche.
Top this with another layer of brioche and repeat the process until there is either 2 or 3 layers of haggis mix and the final layer is Brioche.
Whisk together the eggs and cream and season well, then poor the mix over the top of your stacked brioche.
Using a cocktail stick or a metal skewer stab through the layers repeatedly only tiny holes to help the mix soak through.
Leave to soak in for about 45 minutes in a fridge.
Cover with tin foil and bake at 160 degrees C for around 45 minutes.
Remove the tin foil and increase the oven to 170/180 degrees C and bake again for around 30 minutes or until the layers have souffle-ed up and the top golden brown.
Remove from the oven and place a sheet of parchment paper directly onto of the pudding.
Place your second matching tray on top and press down firmly.
Leave to cool on the side for around an hour and then transfer to the fridge to cool & press over night.
The next day you will have a beautiful compact cake.
Serving:
Remove the edges and cut into portions.
To serve bake at 180 degrees C for around 20 minutes depending on the size that the portions are cut.
The pudding will puff up and be light and soft to the touch.
Serve with your favourite simple clean veg and a jus....or sauteed wild mushrooms, mushroom puree and fresh black truffles as in the picture!!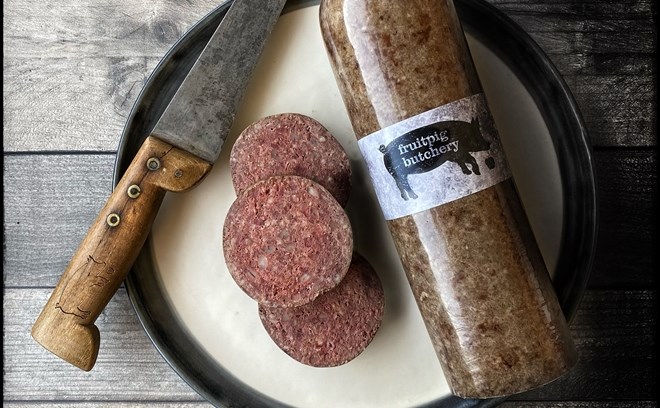 Fruit Pig Haggis
Hearty, traditional Fruit Pig Haggis - not just for Burns Night!
Shop Fruit Pig Haggis